Sant Martí de Llémena
Sant Martí de Llémena
This restaurant is located on the heart of la Vall del Llémena and offers: grilled meat, and traditional Mediterranean cuisine with seasonal and proximity products.
Sant Martí de Llémena
Traditional cuisine. House specialties: roast duck, beef with oyster mushrooms, snails and grilled meat.
Terrace service and bar service.
Price chart: 20 to 25 €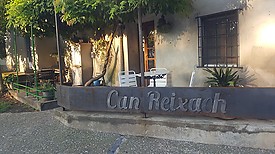 Sant Martí de Llémena
Homemade cooking like our grandmother. Homemade desserts, wineskin wine, wine and sparkling wine menu. We serve complet breakfast, tripe, cold meat, barbacue, sandwich. At midday, vermouth and homemede tapas. We elaborate menus for ...
OF YOUR INTEREST
NEWSLETTER