Sant Pere de Llorà ( IX-XI-XVII)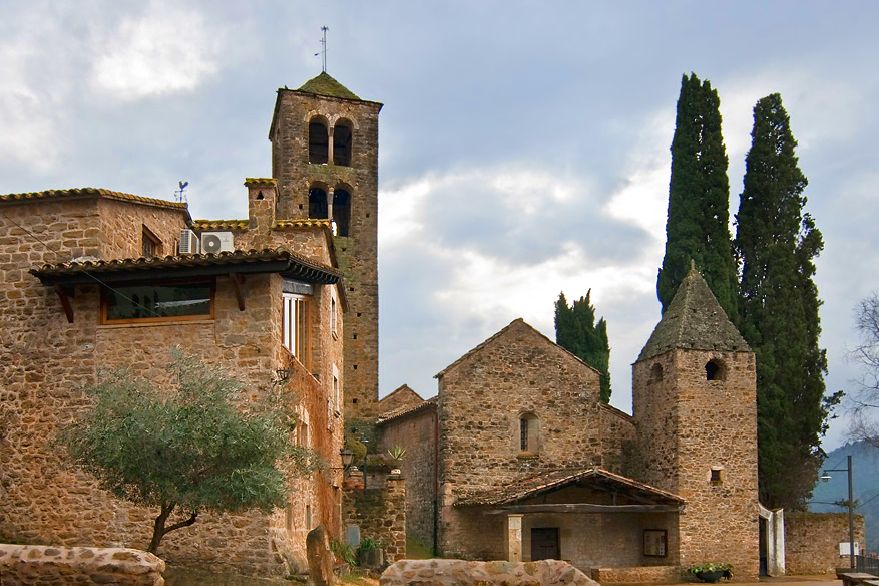 Photography: Miquel Bohigas
Sant Pere de Llorà is the parish church of Llorà and is located on the main road from Sant Gregori to Sant Martí de Llémena. Documented in the year 1058, recent archaeological excavations have discovered that the church is built on top of an older building that may date from the 9th century. The Romanesque construction, from the 11th century, was the object of several alterations in the 17th and 18th centuries and is rather well conserved. The Romanesque building is a nave with a semicircular apse and two small apse chapels which were discovered recently.

On the exterior it is decorated with lesenes. The bell tower is also Romanesque, comprising a high tower with a square floor plan, with two levels of double windows split by columns.
In the 17th century the south face of the church was altered, since a second nave was added, and at the same time a new west door was opened up. This period of reforms is also when the comunidor (a small building used to ward off bad weather) was built, a square-based tower with three floors and a pyramidal roof, beside the façade like the porch, supported by a quadrangular pilaster. In 1647 the sacristy was added and in 1731 the choir.

It should be mentioned that the recent restorations of the Sant Pere de Llorà church have discovered remains of on Romanesque paintings in the lower part of the apse and the apse chapels, and these display curtains, medallions with real and mythical animals and the feet of a human figure.
| | |
| --- | --- |
| Town: | Sant Martí de Llémena |
| Dirección: | Old bay, next to the GI-531 towards The Plains Hostoles, km.12, 5 |
| Visita: | Open during hours of worship. Misses the 2nd and 4th Sunday of each month at 11am |
OF YOUR INTEREST
NEWSLETTER